[one_half]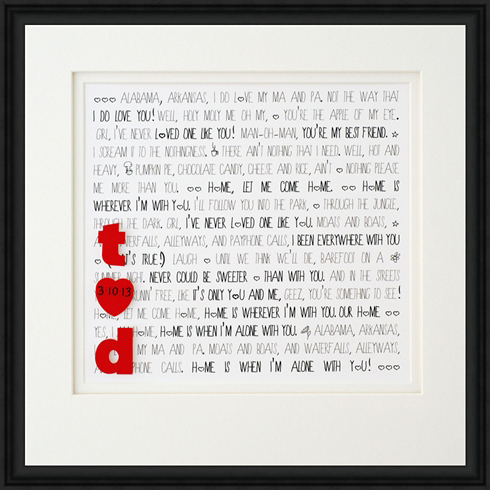 [one_half]
We recently had a client email us a Pinterest link (which might be Kendra's favorite form of visual communication).  She had seen a really great idea for an anniversary gift for her husband and wanted to replicate it.  Being their first anniversary, paper was an obvious choice.
She had a specific font and size in mind, so we left the lyric printing to her and used our computerized mat cutter to make the initials and heart out of an archival mat board.  They were then raised 1/4 inch out from the lyrics paper to create some dimension.  To accommodate the letters, we added a spacer between the two white mats.  The piece was finished with a contemporary black frame.
The cool thing about this gift is that you can use wedding vows, poetry, a famous quote or in this case meaningful song lyrics.  It could even be done for a birthday instead of an anniversary and hung in a kid's room.  Luckily, much like framing your wedding invitation, now the groom will never forget his anniversary.