Shadow box frames can be some of the most challenging and the most rewarding custom framing projects. We had a long time client come to us before the holidays with a significant family project. When her father was 9, he won a Cub Scout Pinewood Derby Race. His father (her grandfather) had helped him with the car and afterward made a wonderful display for the derby car and award. Her father always kept it and eventually gave it to her "little brother". Fortunately, after 50+ years it was still in great shape and they had some wonderful photos of the winner and his siblings.
Our client knew it was important to her brother and wanted to ensure it would stand the test of time. She also wanted to make it something that he'd be able to look at everyday, while keeping all the elements together. She brought us the car and award display along with the photos and his ribbon. The award display that her grandfather made really needed to stay as it was with the car, making the depth of the box over 3 inches. We had to "stack" two mouldings in order to achieve the depth but it worked out flawlessly! We were able to recess the heavy wood plaque into a fabric Crescent mat, cut windows for the photographs and mount his ribbon. The project was enclosed in a Larson Juhl custom shadow box frame in a similar wood tone as the car and award display. The sides of the custom shadow box were lined with the same mat. TruVue glass was used to protect everything from fading and to keep the inside sealed and clean.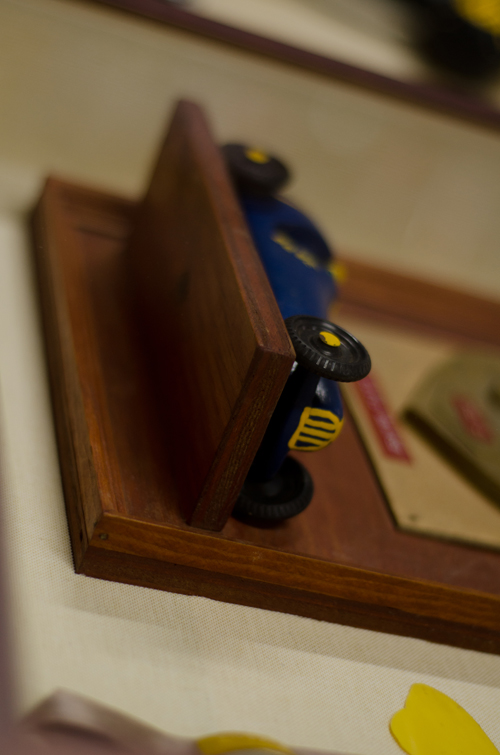 We custom frame a lot of art in Denver, some of it rather pricey. But sometimes the truly priceless pieces aren't those worth a ton of cash but the memories that are represented in everyday things. Let us be your framer and we can preserve your memories too!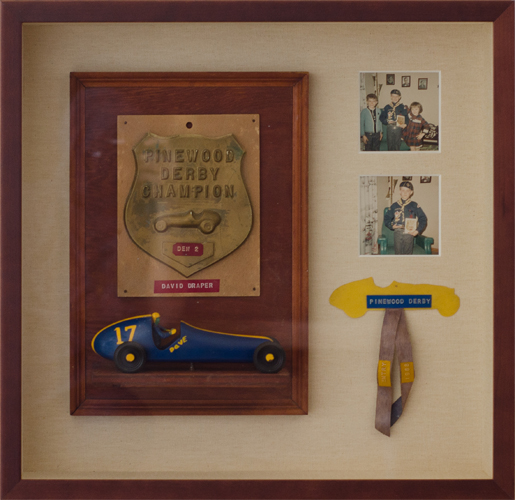 Our client was kind enough to send a photo of her father and brother with the finished piece. We hope he enjoys it for years to come!