What is an "Anthology"? Simply put it is a collection. Here at Anthology Fine Art we love collections and the challenge and creativity it takes to preserve and display them. Several years ago we had the opportunity to make a large, multi opening, custom frame of a collection of vintage cards for a client. They were collected by the husband's father and serve as a beautiful family tribute. The same Denver family recently came to us with another family heirloom project, this time a collection of arrowheads, stone tools, and beaded jewelry, from the wife's grandfather. The grandfather had created an DIY display in a hand made box that had been in her family for years. Time had taken its toll on the box and the collection was in need of an update so that it could be preserved and displayed for further generations.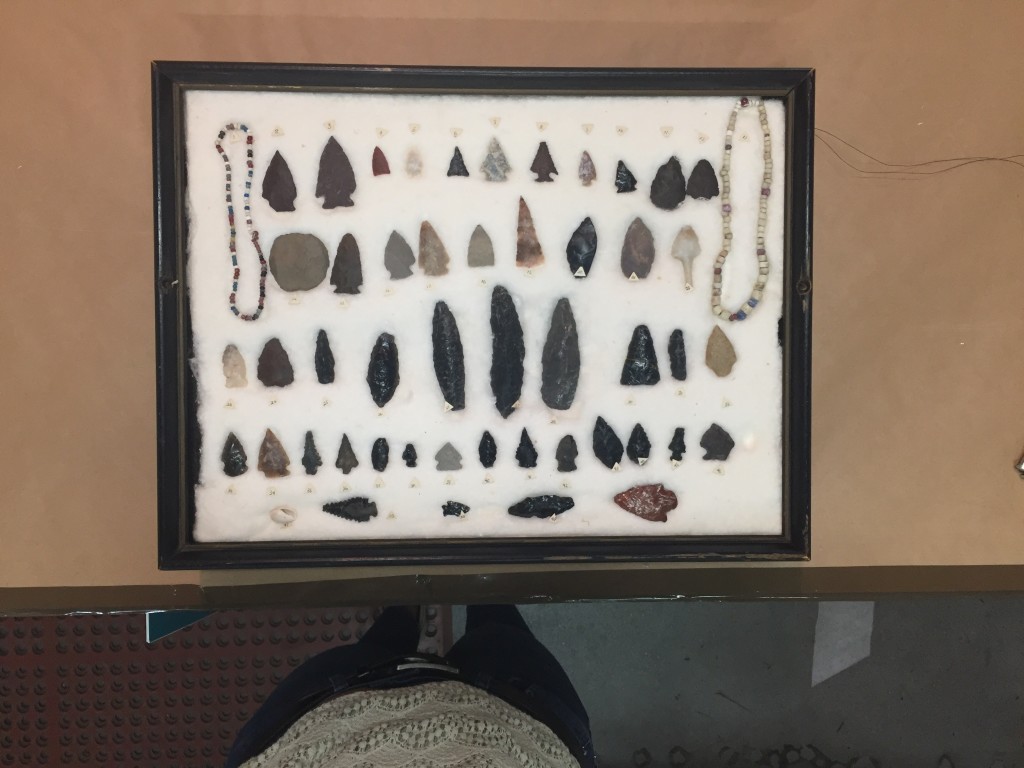 Her grandfather had meticulously documented what each item was, as well as where they were found, and created a hand written key with corresponding numbers for each item. The client wanted to retain the original layout, key, and the numbers. She also wanted to double the size and rather than being displayed by laying on a table the way the original had, with the arrowheads pressed between cotton and glass, she wanted the arrowheads to "float"and hang on the wall in their new home.
We started with the idea to make the overall size bigger without getting too large or distracting. Individual oval windows were cut in order to display each piece. Rather than two mats stacked, we created a custom cotton canvas mat that gives the impression of being embossed that made for a subtle, yet elegant way to display each individual item.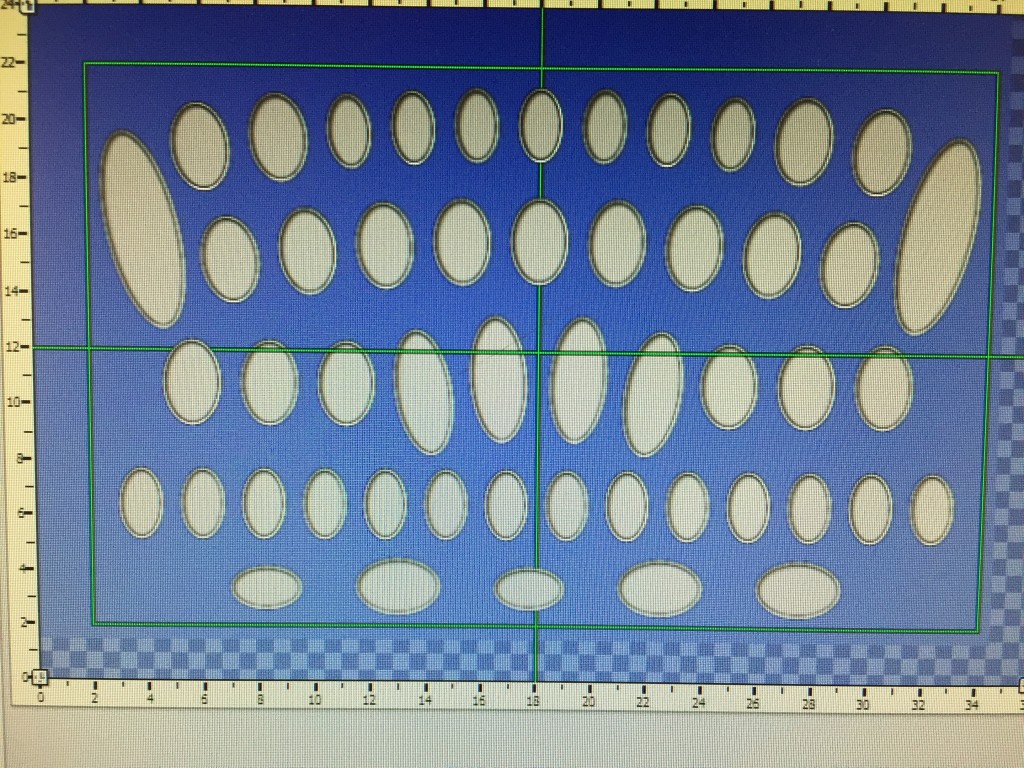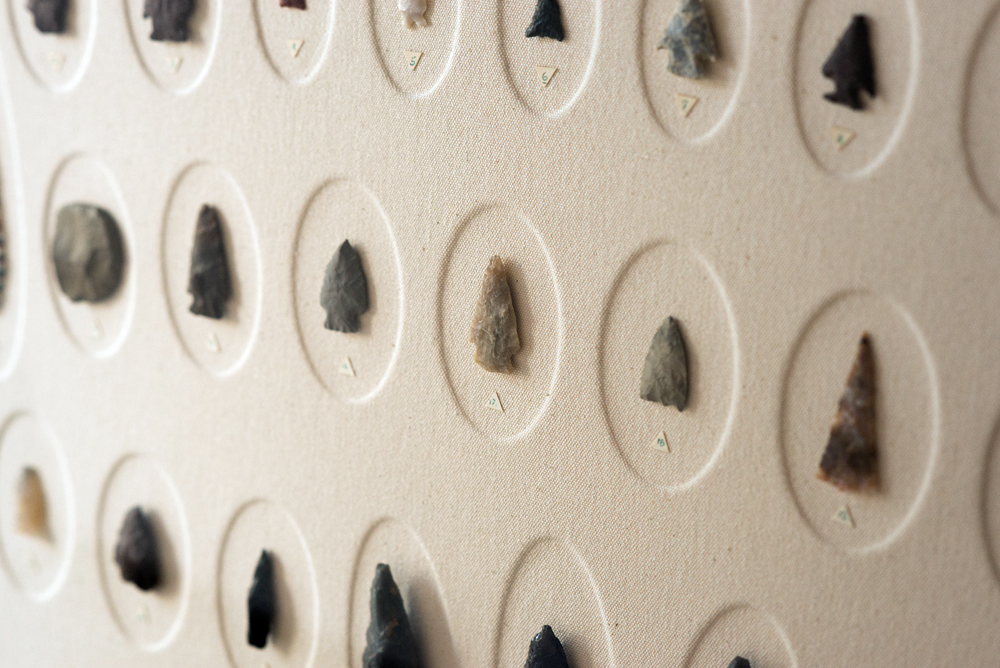 The collection included multiple arrowheads of different size and shape, stone scrapers and tools, as well as two pieces of beaded work. Each piece was individually mounted to the canvas and the had written numbers from the original display were reused.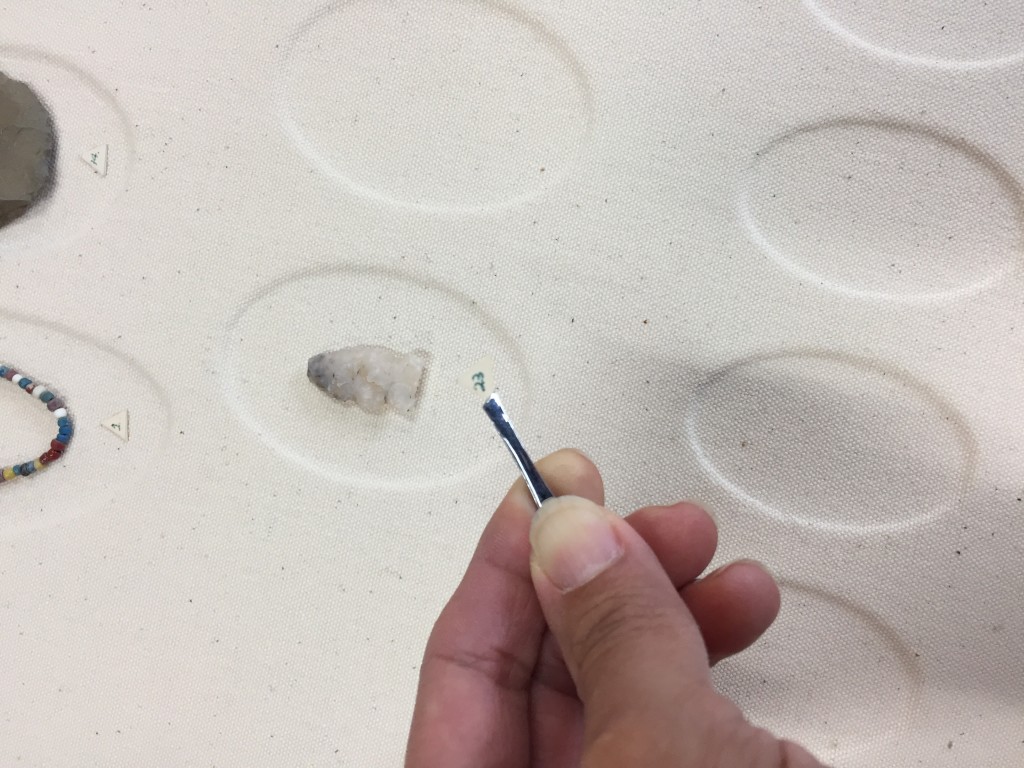 Finally, to tie the two family pieces together, we used the same frame as the vintage cards. The result was a beautiful new display for a lovely collection, that will now be proudly displayed and cherished by this wonderful family for generations to come!
Over the years we have had the pleasure of framing a lot of different collections for our clients. From Arrowheads and Vintage Cigarette cards to Military items and Woodworking Tools. We cherish the opportunity to preserve and display these items. We would love to see what sort of fun and interesting collections you have. We encourage you to see what Anthology Fine Art can do in order to preserve, protect, and display your collection. Consultations and quotes are always free and encouraged. Don't allow these wonderful bits of history and conversation starters to continue to collect dust in a box or on a shelf come and see how we can help you create a display that you will cherish for a lifetime.