We love when clients visit our Englewood frame shop with interesting objects.  Shadow boxes always present unique challenges and tons of creative opportunity.  Jared, a long-time client, recently stopped by with a pair of Minnie Mouse ears from his Disneyland vacation with his daughter.  A friend had invited them to the exclusive Club 33 inside the park, where of course, you exit through the gift shop.  Amongst much bling and a shopping experience to be expected by Disney, his precious daughter asked, "Daddy, can I get these ears?"  She wore them proudly through the park and when they returned home he decided not to let them fall by the wayside of souvenirs forgotten.  We've had the pleasure of working on many projects for Jared, from original art to limited edition prints, many for his daughter's room.  He realized the ears would make a great addition to the gallery wall they were steadily adding to.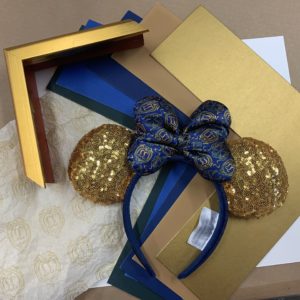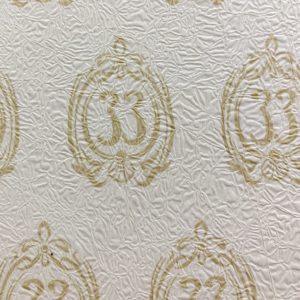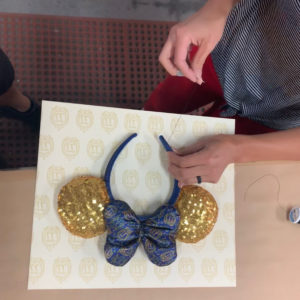 During the design process we immediately settled on a gold Larson Juhl frame to accent the gold sequins and looked at many mat selections to hand stitch the ears.  Jared brought the ears to the shop in the bag from Club 33 and also had the tissue paper Disney uses to wrap items.  I asked if he would be willing to let me try to mount the paper to an acid free mat to serve as an added design element and he loved the idea.  
Everything we custom frame at Anthology is conservation grade at a minimum and we also provide archival museum framing.  With something as collectable as these Club 33 Mini Mouse ears, we wanted them to stay in mint condition.  In addition to hand stitching the ears to an acid free mat, we also cut a small slit to slide the tags through to the back of the mat, keeping them intact but invisible.  The sides of the frame were lined with a royal blue Bainbridge mat that has a similar sheen as the headband and Club 33 fabric.  We finished the project with Conservation Clear glass by TruVue.
We are incredibly grateful to clients that return to our business to custom frame their family treasures knowing we will what is best to make them not only look good, but last for decades.  We pride ourselves on making the most of our materials, so we made custom mats for their vacation photos with the remaining paper as a thank you.  
We love how this elevated design will be able to grow with his daughter and be appropriate on her wall, no matter her stage in life.  We encourage you to take a second look at the items of significance to your family and let's talk about getting them out of the shoe box and up on the walls!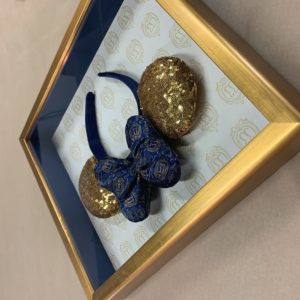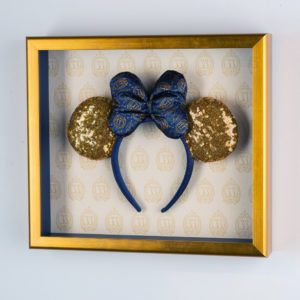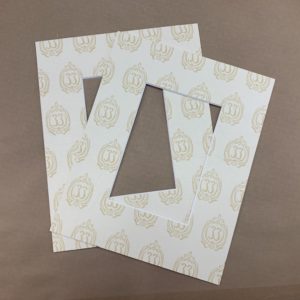 Have a question?  Call us at 303-534-1331 or fill out the contact form below.