Custom Framed Wedding Program
A bride recently came to us with a box full of her wedding memorabilia.  She and her new husband had spent months and tens of thousands of dollars hand selecting every single detail of their dream destination wedding.  
They commissioned an artist for their save the date.  A custom wax seal was created with the silhouettes of their beloved dogs, monograms also included their pups!  Calligraphy was hand done on everything from the invitations, place cards and save the dates.  Their wedding invitation had been laser cut with the most intricate design I've ever seen  Every single detail is as beautiful as it is unique to the couple.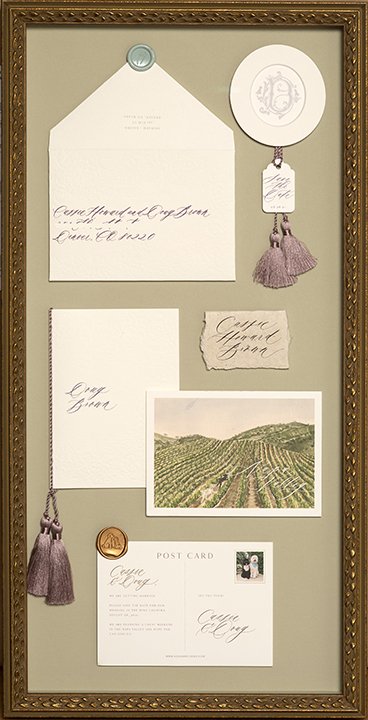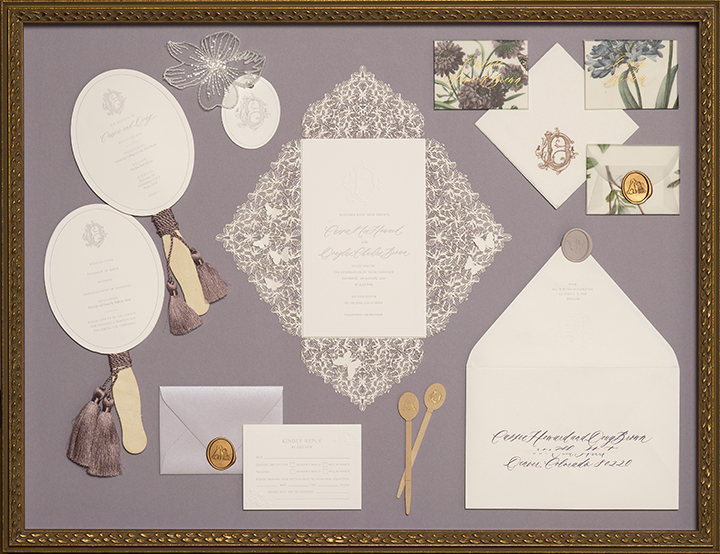 The client has been to our south Denver frame shop to have her own watercolors framed, along with other pieces.  The thought of keeping all her incredible wedding details in a box was not an option for her.  First, we unpacked all the items to see what she wanted to use.  We decided to create two unique boxes, one for the wedding details and one for the save the date cards.  Second, we choose light pastel colored mats because so many of the items were white and a beautiful gold  Larson Juhl frame to add texture and contrast.  Before she left, we laid out rough designs for each, but she graciously left the final layout to the experts here at Anthology.  
Kendra took the time to museum mount and hand stitch each item in place.  We take pride in archival, reversible mounting whenever we can to ensure the longevity of everything we custom frame.  Lastly, we finished each piece with Museum Glass.  Our client is sure to enjoy these pieces of art more with each passing wedding anniversary .