How to frame an antique American Flag
We have been fortunate to have had many flags to custom frame here in our Englewood store.  Just like any other tapestry, extra care needs to be taken, but the results are always worth it.  
This client came to us with this 38 star antique American flag already framed and folded in a 40×60 size.  They had recently moved to Colorado and finally had a wall big enough to make it a central design feature in their home.  As with many family heirlooms, stories had been passed down as to how this flag had been acquired.  At a glance it was obviously hand sewn and the 38 stars signified it had been made after our great State of Colorado had been added to the Union in 1876!   After removing it and measuring, we discovered the flag was 10 by 6 feet!  Initially we discussed making it that size, however, sourcing materials, moving and hanging a shadow box that size can be prohibitive.  We settled on 8 by 4 feet to keep the piece manageable and still maintain the statement the client was looking for.  We planned to ripple the flag to create movement and needed a frame deep enough to accommodate.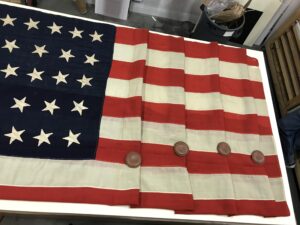 We settled on Larson Juhl's Biltmore frame with a beaded fillet to add more interest.  The family  wanted to do this once and do it right, so Tru Vue's Optium Museum Acrylic was the obvious choice for glazing.  Optium is not your run of the mill plexi glass, anti-reflective, anit-abrasive and anti-static, it is everything Museum Glass has to offer and more.  Finally, we wanted to preserve the flag well and so selected a 100% canvas duck fabric to stitch the flag on.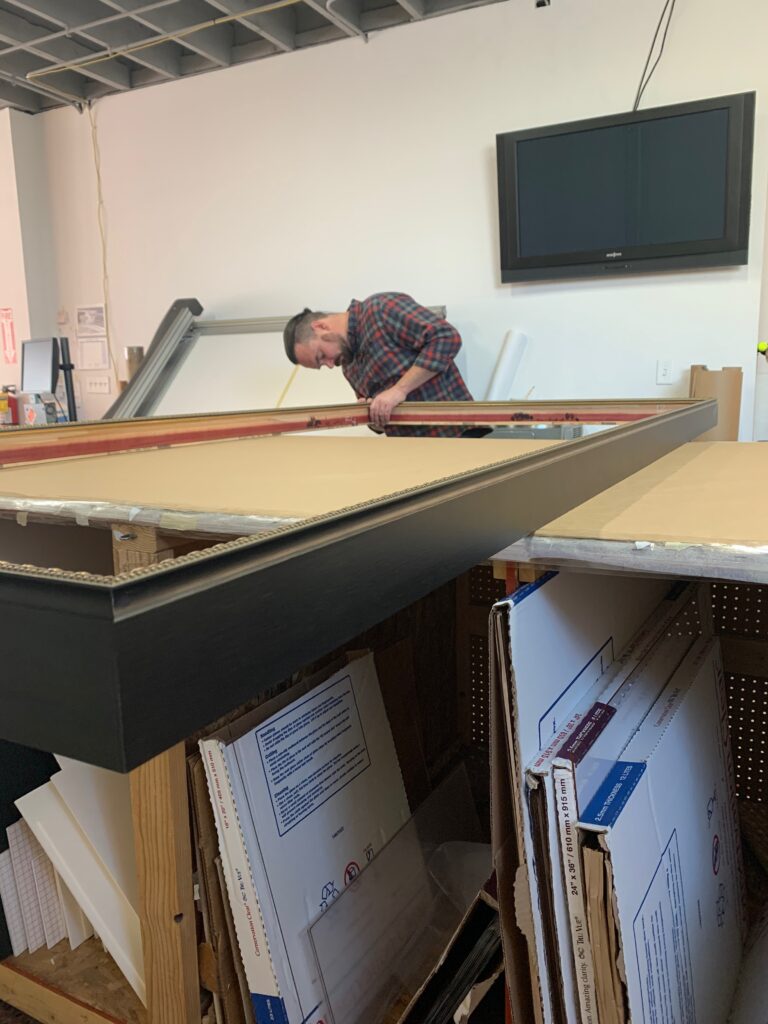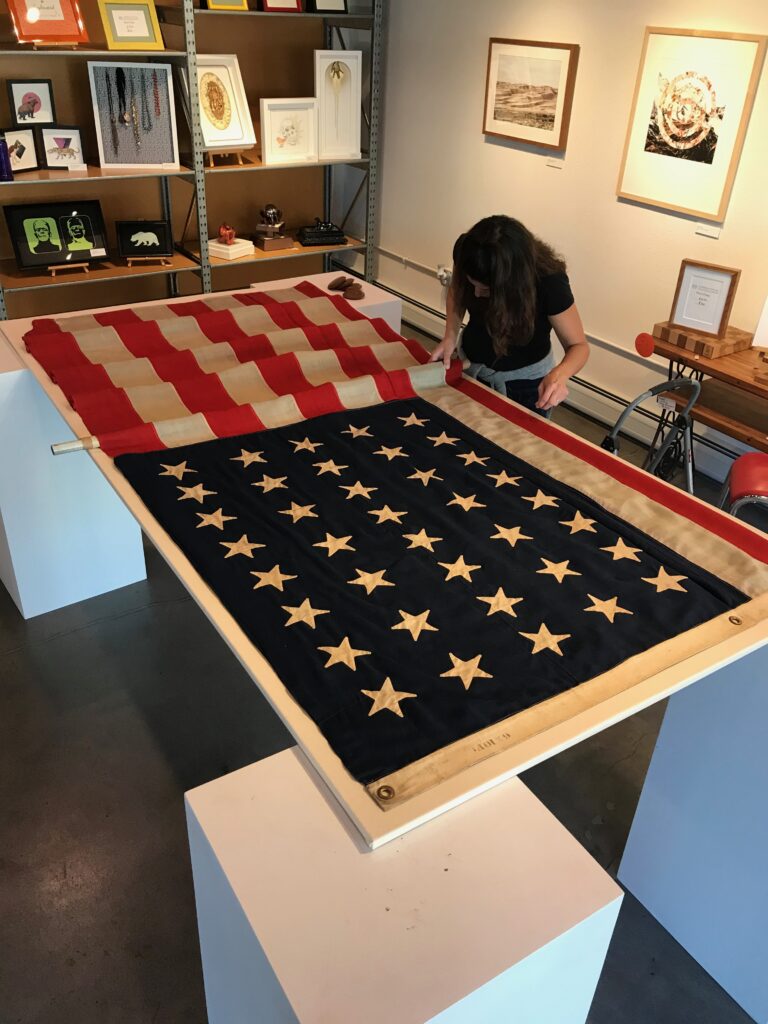 We used the same cotton canvas to line the sides of the frame.  As with all of our custom framing projects, this was a team effort with Zach taking the lead on the frame and Kendra stitching the flag.  We completed this project just before Christmas of 2020.  The client had his parents coming to visit and really wanted to surprise them with it's new presentation.  This is the largest shadow box we've had the pleasure of completing and it's not exactly something that will fit in the back of an SUV or truck.  We partnered with the incredible team at JDP Art Services to handle the delivery and installation.  Unfortunately, we couldn't be there for the unveiling but heard this from the client: "The flag is incredible.  It was amazing to have my parents in town when it was 'unveiled' and hung up.   I really can't thank you guys enough for your creativity, sensitivity and hard work putting this together.  Its a true piece of art that will be in my family for generations!"
We love seeing incredible examples of National and Family Treasures being well preserved and displayed for current and future generations.  Please contact us with any unique custom framing projects you have in mind.