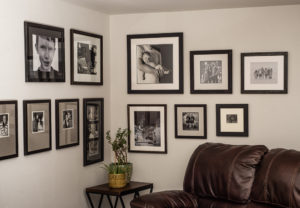 Portrait Studio + Boutique Custom Framing
I don't cut my own hair, change the oil in my car or do our taxes.   There are some things that I don't enjoy doing,  have no business doing or have no time to do .  Instead I trust the experts to make me look my best, keep me on the road and out of trouble with the IRS. I do take a lot of photos of my son, his grandparents and his cousins. I'm happy to say I custom frame a lot of them for a gallery wall in our home and I make an album every year. My parents and in-laws are always thrilled when we do the same for them.
One of my good friends recently told me she had a constant nagging feeling when she thought about photos of her kids. She knows she's not keeping up and when she does, she then worries about what to do with the photos because there are too many or the quality never looks right when she prints them. I'm her family photographer and I realized I was part of her problem and I'd rather be her solution!
For the last 6 months I've been working with local and national vendors to source materials to make the same quality portrait art that we currently provide for custom framing.  I'm also thrilled to add custom albums, the same books my son loves to look at over and over again.
I would love to discuss creating portrait art of your family, grandchildren or extended family. Email kendra@anthologyfineart.com or call me at 720-339-4414 for more details and to arrange a consultation.