Thursday, September 5th 6-8pm.  Join Jessica at Anthology for the debut of over fifty new works featuring a refreshing mixed media approach incorporating materials such as wood, wire, fiber, silicone, acrylic paint, and graphite. Champagne will be served on Thursday evening as we toast to life and honor human resilience.
In-search of a silver lining, this exhibition explores the concept of reconstruction in the wake of tragedy; a thread within humanity that binds so many lives.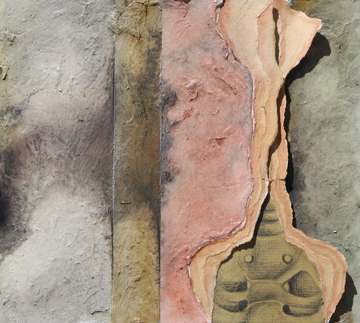 In an instant our lives can shift in ways for which we are unprepared. The life that we once knew is permanently altered and a new existence becomes reality.  Pieces is a multifaceted installation that addresses the physical and psychological impact of a life-changing diagnosis.  Utilizing common household materials and re-purposing disposable objects, this body of work speaks to the cyclical death and rebirth that occurs on a minute or immense scale.  Grief over the loss of the life we once recognized transforms into reconstruction and discovery of the new version of life we are to lead.