PIGMENT, VALUE, DENSITY – Sue Crosby Doyle and Jean Smith
Artist Reception:  Friday, June 16th 5-9pm
Anthology Fine Art | 3419 S Lincoln St  Englewood, CO 80113
Show dates:  Friday, June 9th-Saturday July 29
Sue and Jean have been creating art since the late 1980's. They met in the Denver art scene as members of different co-op galleries, and continued their friendship as members of the Women's Caucus for Art, Colorado Chapter, and served as Co-Presidents of that group. Both of them have always been interested in using color in their work; Sue with her monotypes and collages and Jean with her ceramics and monotypes.  They overlap with their color pallets, so thought it would be interesting to present they styles simultaneously in this show.
Pigment, Value, Density refers to the way colors are used, from the actual colored powder which is the basis of color (pigment), to the relative darkness or lightness of the color (value), and on to the transparency or opaqueness of that color (density). It represents the study or testing of the hue, lightness, and saturation of the light reflected as we see things; playing with what happens visually when various colors are used together. How do we feel when we see various color combinations? Can we create different feelings by changing the color combinations? 
This duo show aims to make the viewer aware of their feelings by the colors in relationship to each other: happiness, sadness, anger, love, and feelings in between. Sue features her monotypes and collages and Jean features her ceramic sculptures.
Sue Crosby Doyle: My approach to my painting style for the last few years is to have 10 sheets of blank paper all starting at the same time. I use acrylic pigmented colors and other water based paint. Some of the palettes will start with complementary colors with one other color, other palettes, I will start with analogous colors with another color; Now, areas of painting can be fully saturated with color or a more muted or neutral colors. 
After the first layers have dried, a second layer is started using pattern and shapes until a composition begins to emerge. As the painting develops, I look for unity and variety over all. I ask myself the questions of:  Is it balanced? Does it move?  Is there a focal point?  At this juncture I begin to add shapes, circles, squares and line. I use many household and hardware items to create texture and pattern. I will sometimes add layers of colors over the patterns for more depth or to mute the selections.  By working this way, I expand my possibilities for serendipitous discoveries of the relationship of the colors, shapes and line to create unique and powerful compositions. 
I will then choose several of the small compositions of the 10 that I started.  I then scan theses compositions into the computer.  There, the image will be enlarged and color corrected to the original.  By doing this to the image, I have created a totally different context to view art in.  Everything is magnified.  Pigment density, color, and values are enhanced.  Relationships of shapes, patterns and their overlap became intensified.  All of this is done to enhance the final image for the best presentation of the artwork.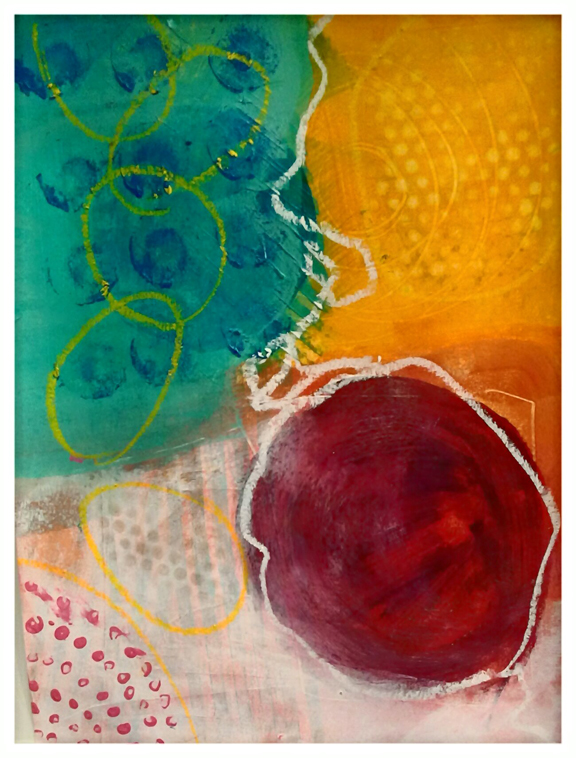 Jean Smith: The work in this exhibition is created using paper-clay, stains and cone 5 glazes. The individual sculptures have textured edge pieces. Various materials such as coral, kitchen utensils, and jewelry are used for this texturing. The flat smooth pieces on the front and back are created by smoothing the clay with a knife or rubber rib. While the clay impressions are still wet, they are hand-built into a three-dimensional form, as an abstract sculpture, or a group of them become a totem.  After the bisque firing (first firing), a black/brown stain is applied then washed off to highlight the textured edges.  A commercial glaze is used on the flat sides. 
Some of the sculptures are smooth cylinder, disk or ball shapes reminiscent of ancient ethnic beads and designs are drawn on them with a ceramic pencil and then they are glazed. These are threaded onto a plastic coated wire so the piece can be suspended from the ceiling.
All of the shapes are hallow and their design and colors are determined to create a feeling of simplistic mid-century futuristic objects or ethnic trade beads. The viewer is encouraged to move through the visual space defined by these pieces and in so doing to have their own personal experience.